News
Tune in for a compelling showcase at DTW 2023 Copenhagen
19-21 September 2023, Bella Center Copenhagen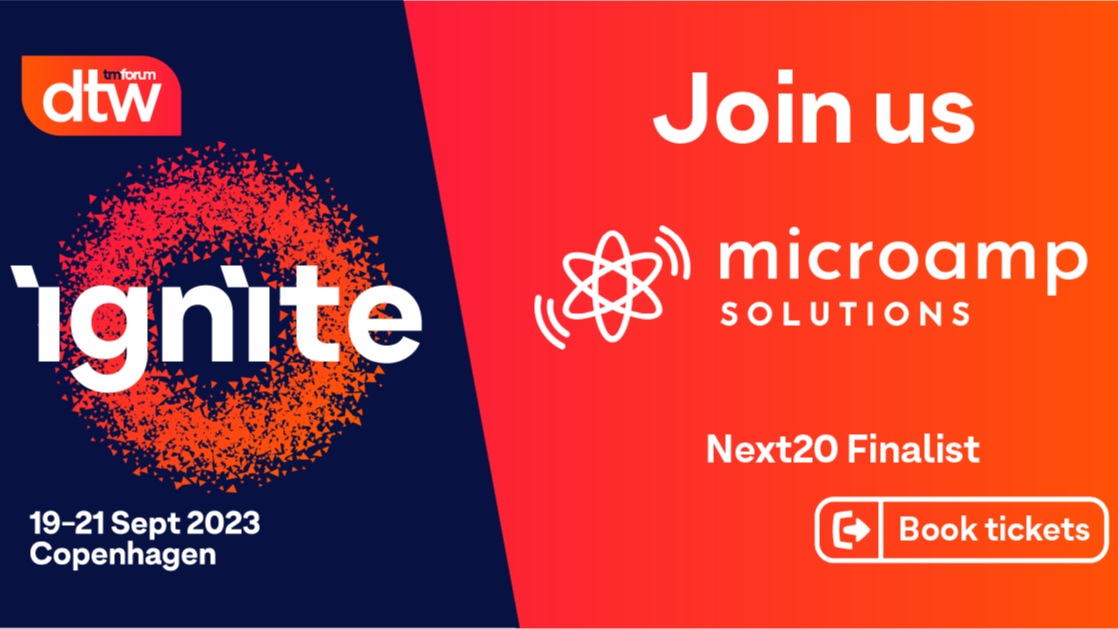 Microamp Solutions has been selected as a finalist for Next20 startup program. We will be showcasing and presenting our state-of-the-art solution to a distinguished panel of global experts at at TM Forum's DTW23 - ignite event, taking place from September 19th to 21st in Copenhagen. Join us for a dynamic pitching session featuring our very own CEO, Dawid Kuchta on Tuesday, the 19th, at 16:00. He will delve into the intricacies of our groundbreaking 5G mmWave solution.
DTW23 is the telco event of the year. As the telco and cloud worlds are colliding, driving rapid service innovation, upending traditional business models, and ushering in exciting new opportunities for growth. This groundbreaking transformation is being enabled by AI, autonomous networks and open digital architectures.
TM Forum is leading the industry in defining the building blocks for new operating models, impactful new partnerships, and advanced software platforms, unlocking the value of data to create nearly endless opportunities for players across the communications ecosystem.
Join us:
We invite you to join us at our stand in the 'Next20 Area' as we will be unravelling the exciting future of 5G industrial networks. Microamp Solutions is arming enterprises with flexible, scalable, and mighty networks based on ground-breaking 5G mmWave technology. Easy to set up, scale, and integrate. Discover how Microamp 5G mmWave helps enterprises get ready for the challenges of the future.
Be with us in Copenhagen, September 19-21, 2023, Next20 Area, Stand 2. Our team will be waiting for you to chat, network, and spread the word about 5G mmWave revolution.
About Next20:
The Next20 startup program empowers startups to showcase their innovations and pitch to experts at TM Forum's DTW23. Startups aim to address challenges such as achieving carbon neutrality and reducing energy consumption by 25% by 2025 (Energy Challenge), creating value in the metaverse using immersive technologies and AI (Metaverse Challenge), and transforming the telecommunications sector (Future Telco).